Description
Product Description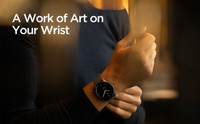 Custom Watch Faces
 Offering a selection of over 50 watch faces and 40+   always-on displays, this smartwatch can match   almost any outfit, mood, or occasion. You can also   customise the watch face with your own   photographs and use the customisable modular to   focus on what matters to you.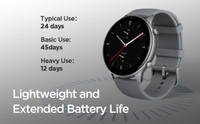 Long Battery Life
This smartwatch's slim design houses a highly complex and advanced circuit design as well as a high-capacity battery. Thanks to its battery's extended life, you can use this smartwatch for up to 24 days with typical use.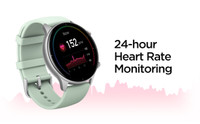 24-hour Heart Rate Monitoring
Featuring a Huami-developed BioTracker 2 biological tracking optical sensor, this smartwatch can accurately and continuously monitor your heart rate 24 hours a day. Moreover, it also keeps an eye on heart rate zones and warns you if your resting heart rate is higher than usual.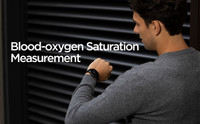 Check Your SpO2 Levels
Blood-oxygen saturation levels or SpO2 levels are a vital indicator of our health, and thanks to this smartwatch, you can keep an eye on your levels. If you're feeling uneasy during an intense workout at the gym or while engaged in a mentally challenging task, you can immediately check your blood-oxygen saturation levels to understand your health better.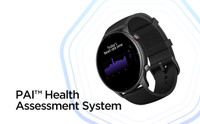 Health Assessment System
This smartwatch features a health evaluation system called Personal Activity Intelligence (PAI), which leverages algorithms to transform health data such as heart rate information, activity duration, and other metrics into a single, intuitive score. This score is unique to each user and makes it easy for you to understand your physical state.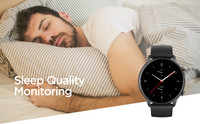 Monitor Your Sleep Quality
This smartwatch also provides in-depth sleep monitoring. This smartwatch can distinguish between light and REM sleep stages, monitor your sleep breathing state, and offer quality analysis and suggestions for improvement based on a night's sleep. It also recognises naps that last longer than 20 minutes during the day.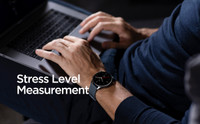 Manage your Stress
With this smartwatch, you can check your stress levels at any time during the day and understand whether the levels are normal, relaxed, medium, or high. Thanks to this feature, you can identify patterns and learn to not only relax but also and bring down your stress levels.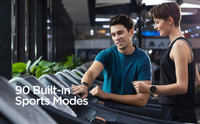 Over 90 Sports Modes
When you activate any one of its sports modes, this smartwatch will provide you with an analytical report that will help you improve your exercise routine. Furthermore, your sports modes are intelligently recognised, eliminating the need for human selection. And, you need not take this smartwatch off when you go swimming, as it is water-resistant in water up to 5 ATM or 50 m.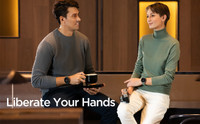 Go Hands-free
With this smartwatch's offline voice control functionality, you can use voice commands to turn on various sports modes or launch the heart rate monitoring function. Moreover, you can use these simple voice commands even without Internet access.
Specifications
General
| | |
| --- | --- |
| Sales Package | Smartwatch, Magnetic Charger, Manual |
| Model Number | |
| Model Name | |
| | |
| Dial Shape | |
| | |
| Strap Material | |
| Size | |
| Touchscreen | |
| Water Resistant | |
| Water Resistance Depth | |
| Usage | |
| Dial Material | |
| Ideal For | |
Product Details
| | |
| --- | --- |
| Closure | |
| Sensor | Accelerometer Sensor, Gyroscope Sensor, Air Pressure Sensor, Ambient Light Sensor, Temperature Sensor, Huami Self-Developed BioTracker 2 PPG (support blood oxygen) Biological Data Sensor |
| Notification | Calendar Reminder, Call Notification, Sedentary Reminders, Smartphone Apps Notifications etc |
| Notification Type | |
| Battery Type | |
| Charge Time | |
| Battery Life | |
| Rechargeable Battery | |
| Charger Type | |
Platform And Storage Features
| | |
| --- | --- |
| Operating System | |
Connectivity Features
| | |
| --- | --- |
| Call Function | |
| Bluetooth | |
| Wi-Fi | |
| GPS | |
| Messaging Support | |
| Bluetooth Version | |
| Email Support | |
| Operating Range | |
| Call Features | |
Camera And Display Features
| | |
| --- | --- |
| Display Resolution | |
| Display Size | |
| Display Type | |
| Backlight Display | |
| Scratch Resistant | |
| Other Display Features | |
Fitness And Watch Functions
| | |
| --- | --- |
| Calorie Count | |
| Step Count | |
| Heart Rate Monitor | |
| Altimeter | |
| Other Fitness Features | Multiple Sports Modes, Sleep Tracking |
| Date & Time Display | |
| Compass | |
| Calendar | |
| Alarm Clock | |
| Chronograph | |
| Language | |
| Number of Buttons | |
| Other Watch Functions | Music Control, Weather, Multiple Sports Modes, Sleep Monitor |
Audio And Video Features
| | |
| --- | --- |
| Gesture Control | |
| Voice Control | |
Dimensions
| | |
| --- | --- |
| Width | |
| Height | |
| Thickness | |
| Weight | |
Warranty
| | |
| --- | --- |
| Warranty Summary | |
| Warranty Service Type | For any product related issues|| Please For any product related issues|| Contact_us on : [1800-419-9680 ] |
| Domestic Warranty | |